The four musketeers of heavy lifting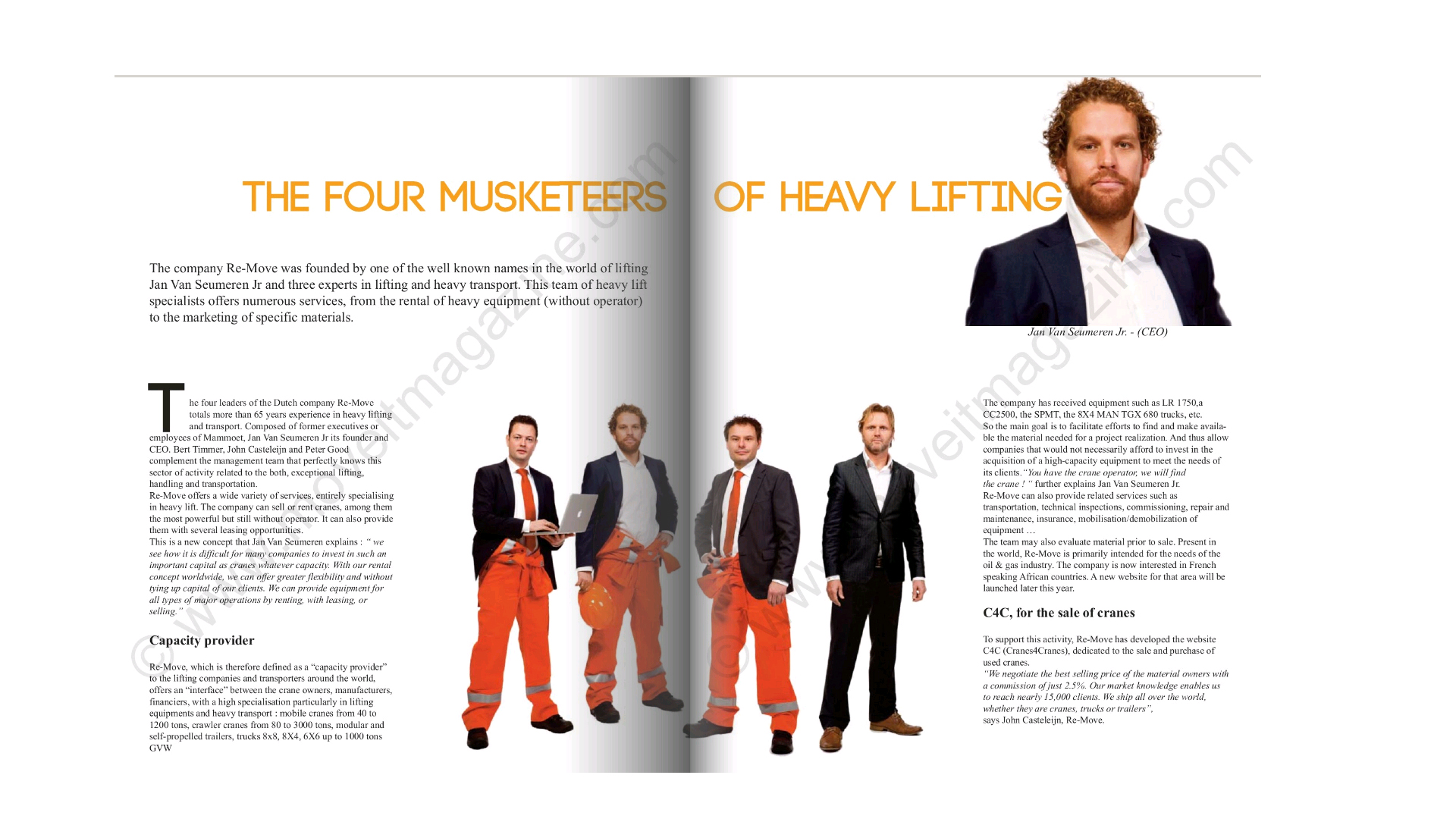 The four musketeers of heavy lifting
The company Re-Move was founded by one of the well known names in the world of lifting Jan Van Seumeren Jr and three experts in lifting and heavy transport. This team of heavy lift specialists offers nummerous services, from the rental of heavy equipment (without operator) to the marketing of specific materials.
The four leaders of the dutch company Re-Move totals more than 65 years experience in heavy lifting and transport. Composed of former executives or employees of Mammoet, Jan Van Seumeren Jr its founder and CEO. Bert Timmer, John Casteleijn and Peter Bon complement the management team that perfectly knows this sector of activity related to the both, exceptional lifting, handling and transportation. Re-Move offers a wide variety of services, entirely specialising in heavy lift. The company can sell or rent cranes, among them the most powerful but still without operator. It can also provide them with several leasing opportunities. This is a new concept that Jan Van Seumeren explains:
"We see how it is difficult for many companies to invest in such an important capital as cranes whatever capacity. With our rental concept worldwide, we can offer greater flexibility and without tying up capital of our clients. We can provide equipment for all types of major operations by renting, with leasing, or selling."
Capacity provider
Re-Move, wich is therefore defined as a "capacity provider" to the lifting companies and transporters arround the world, offers an "interface" between the crane owners, manufacturers and financers, with a high specialisation particularly in lifting equipments and heavy transport: mobile cranes from 40 to 1200 tons, crawler cranes from 80 to 3000 tons, modular and self-propelled trailers, trucks 8x8, 8x4 and 6x6 up to 1000 tons GVW. The company has recieved equipment such as LR 1750, a CC2500, the SPMT, the 8x4 MAN TGX 680 trucks, etc. So the main goal is to facilitate efforts to find and make available the material needed for a project realization. And thus allow companies that would not necessarily afford to invest in the acquisition of a high-capacity equipment to meet the needs of its clients. "You have the crane operator, we will find the crane!" further explains Jan Van Seumeren Jr. Re-Move can also provide related services such as transportation, technical inspections, commissioning, repair and maintenance, insurance and mobilization/demobilization of equipment…
The team may also evaluate material prior to sale. Present in the world, Re-Move is primarily intended for the needs of the oil & gas industry. The company is now interested in French speaking African countries. A new website fort hat area was launched at the beginning of this year.
Cranes4Cranes (C4C) for the sale of cranes
To support this activity, Re-Move has developed the website www.cranes4cranes.com, dedicated to the sale and purchase of used cranes. "we negotiate the best selling price of the material owners with a commission of just 2,5%. Our market knowledge enables us to reach nearly 15.000 clients. We ship all over the world, whether they are cranes, trucks or trailers", says John Casteleijn, Re-Move.
Written by MOVE IT magazine.